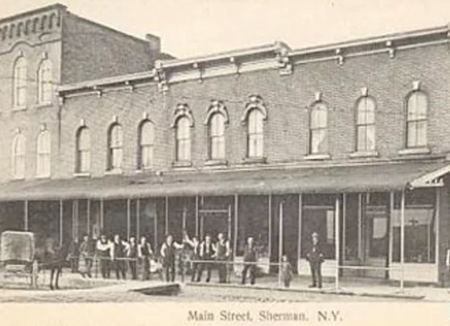 About Us
A signature to the Sherman, NY community since 1895, the Sherman Area Pharmacy carries on a long-standing history and reputation of serving the local community. Staying locally owned and locally operated allows for a unique and individual experience that can be tailored to each customer's specific needs.
Opened by James Tuft on May 9, 1895, the Sherman Area Pharmacy continues to honor its long legacy, while maintaining modern industry standards and incorporating new technologies. Refreshed by Pharmacist Christan Nyweide in 2015, the Pharmacy stands ready to write a new chapter for years to come.
Though the Pharmacy may have changed hands several times throughout its life, many signatures of the building live on. A large mirror along the main entrance, for example, has seen more than 120 years of history cross the threshold, while the original tin ceiling tiles, as well as several pieces of the original pharmacy and later ice cream bar remain intact. The character of the building alone is worth a visit!
The Sherman Area Pharmacy, though small in stature, is a fully-stocked, fully-capable pharmacy ready to serve you! No request is too large or too small. With our knowledgeable and dedicated staff, we'll work with you and your doctor to make sure your needs are met, every time.
Christan Nyweide, RPH
A 1989 graduate of the SUNY University at Buffalo School of Pharmacy and Pharmaceutical Sciences, Christian purchased Sherman Area Pharmacy in 2015 in order to provide area residents with a more personal pharmacy experience. His excellence in service and genuine desire to help those in the community can be seen each and every day.
Ryan Nyweide, Pharmacy Technician
Ryan joined the pharmacy in May 2017 after graduating from University at Buffalo with a B.S. in Physics. This has trained him in accuracy and efficiency when dispensing medication, which guarantees a great customer experience.